Home » Our Services » Anti-drug Antibodies (ADA) Assays
Anti-drug Antibodies (ADA) Assays
Anti-Drug Antibodies (ADA) may induce unwanted side effects, especially in biotechnology-derived pharmaceuticals, such as therapeutic antibodies and growth factors. Hence, ADA have been subjected to increasing scrutiny by the regulatory authorities using immunogenicity safety studies [1-6].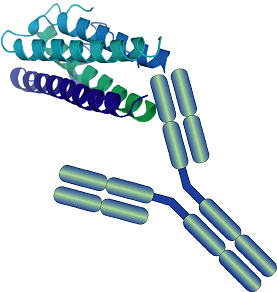 ADA have been observed in preclinical and clinical studies resulting in significant changes in toxicology, pharmacokinetics, and efficacy. These effects result from the generation of drug-induced (neutralizing) autoantibodies against e.g. EPO [10, 11], FVIII [12] or insulin [13] and can be responsible for allergic reactions, or even anaphylactic shock. As a consequence, studies on ADA have become inevitable [7-9] for bioengineered pharmaceuticals including biosimilars.
Adverse immunological reactions may vary widely, depending on how the active ingredients are structured, produced and applied. For example, the expression of anti-Fc antibodies, anti-idiotypic antibodies or antibodies against glycosylated antigens may appear. The detection and characterization assays for ADA must therefore be developed, customized and optimized for each drug.
Determination of Anti-drug Antibodies
A complete ADA determination entails the following steps:
Screening assay ("bridging", direct or competitive ELISA, cytokine profile)
Confirmation assay (determination of specificity)
Characterization assay (class/isotypes of antibodies, neutralizing yes/no)
If the pharmacokinetics (PK) of the active ingredients are also available, possible changes in the PK may be correlated with the effects induced by ADA.
vivo Science offers the complete development, implementation, and optimization of ADA assays. We can also adapt and validate your in-house assays in compliance to GLP guidelines.
Guidelines
1: GUIDELINE ON THE CLINICAL INVESTIGATION OF THE PHARMACOKINETICS OF THERAPEUTIC PROTEINS (CHMP/EWP/89249/2004)
2: GUIDELINE ON IMMUNOGENICITY ASSESSMENT OF BIOTECHNOLOGY-DERIVED THERAPEUTIC PROTEINS (EMEA/CHMP/BMWP/14327/2006)
3: Guideline on immunogenicity assessment of monoclonal antibodies intended for in vivo clinical use. (EMA/CHMP/BMWP/86289/2010)
4: Guideline on similar biological medicinal products containing monoclonal antibodies (EMA/CHMP/BMWP/403543/2010)
5: ICH Topic S6 . Preclinical Safety Evaluation of Biotechnology-Derived Pharmaceuticals. (CPMP/ICH/302/95)
6: ADDENDUM TO ICH S6: PRECLINICAL SAFETY EVALUATION OF BIOTECHNOLOGY-DERIVED PHARMACEUTICALS, S6(R1), Current Step 2 version Dated October 29 2009
Literature
7: Biologicals 2011, 39, 100
Taking immunogenicity assessment of therapeutic proteins to the next level.
Bütel-IC et al.
8: J. Neurol. 2004 Jun;251 Suppl 2:II4-9.
Immunogenicity of recombinant human proteins: causes and consequences.
Schellekens H, Casadevall N.
9: Regul Toxicol Pharmacol. 2009 Jul;54(2):164-82.
Immunogenicity of biologically-derived therapeutics: assessment and interpretation of nonclinical safety studies.
Ponce R, Abad L, Amaravadi L, Gelzleichter T, Gore E, Green J, Gupta S, Herzyk D, Hurst C, Ivens IA, Kawabata T, Maier C, Mounho B, Rup B, Shankar G, Smith H, Thomas P, Wierda D.
10: Transfusion. 2008 Aug;48(8):1754-62..
Epoetin-associated pure red cell aplasia: past, present, and future considerations.
McKoy JM, Stonecash RE, Cournoyer D, Rossert J, Nissenson AR, Raisch DW, Casadevall N, Bennett CL.
11: NEJM 2004 351:14, 1403
Pure Red-Cell Aplasia and Epoetin Therapy
Bennett Cl et a.
12: Blood. 2000 Jun 1;95(11):3435-41
Antibodies to the FVIII light chain that neutralize FVIII procoagulant activity are present in plasma of nonresponder patients with severe hemophilia A and in normal polyclonal human IgG.
Moreau A, Lacroix-Desmazes S, Stieltjes N, Saenko E, Kaveri SV, D'Oiron R, Sultan Y, Scandella D, Kazatchkine MD.
13: Diabetologia 1983 25, 465
Immunogenicity of recombinant DNA human insulin.
Fineberg SE et al
14: Journal of Immunological Methods 333 (2008) 1–9
Recommendations on risk-based strategies for detection and characterization of antibodies against biotechnology products.
Eugen Koren et al